Coffee Shop Interior Design Ideas | Part 2
In the last Coffee Shop Interior Design Ideas blog we delved into 3 key areas of coffee shop design. We looked at how creating brand clarity before starting an interior project can be hugely successful; how integrating brand into your interior concept is transformational; and how colour choices in your interior can help to connect your customer to your brand. These three topics were key considerations for coffee shop design and this article will expand on more of the design ideas for your coffee shop.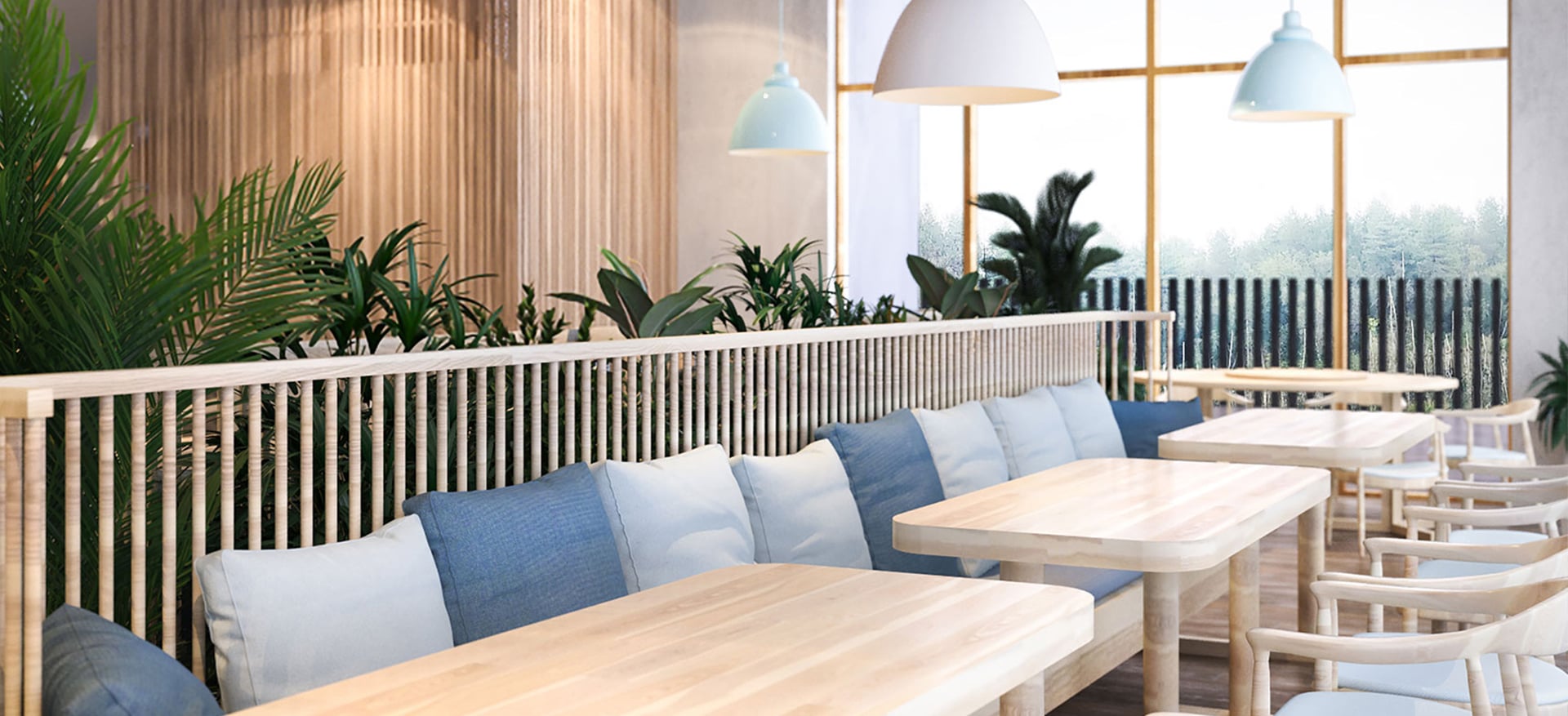 Furniture
Furniture choices and their placement in an interior space is critical to the flow and ambience of a space. The furniture in a coffee shop will help connect your customer and is a reflection of the brand's personality. Furniture is integral to the look and feel of the interior as well as the functionality of the space and consequently has a big impact on the customer experience. Finding the balance between beauty and functionality can be challenging but there are a few key things to think about when planning your space and choosing furniture. Every coffee shop will have slightly different considerations depending on space and flexibility of the space and in some cases smaller spaces may have limited choice on these elements however with careful and considered design solutions you can still maximise a space and create incredible experiences for your customers.
One of the first things to think about is space planning, now this is important for large and smaller interiors;. Obviously you want to make sure you have enough covers to guarantee costs are covered but you need to think about the customer experience here. You want all of your customers to have the same value of experience in your coffee shop.. The last thing you want is a customer's experience to be compromised because of the location of the table or comfort of seating. This is where zoning a space can really help, think about whether you want relaxed seating or dining areas and whether there will be countertop seating for visitors looking for a quick coffee. 
When it comes to tables and chairs, functionality is just as important as the aesthetics. You need to consider the type of use these items will have. Take into consideration the size and weight of the future to ensure handling is easy for customers and staff and make sure you have considered accessibility for your table ans bar seating to ensure there is flow to your space. Choosing fabrics that are hard wearing and easy to keep clean or wipe down is most useful for coffee shops. As well as the above… comfort is what will keep your customers coming back time and time again. The style and design of the chairs should fit the purpose and habits of our customers, if they will be spending long periods sat in your premises you need to ensure the furniture is suitable for this. Try to be consistent with your furniture style and colour choices to keep it coherent and recognisable to the brand.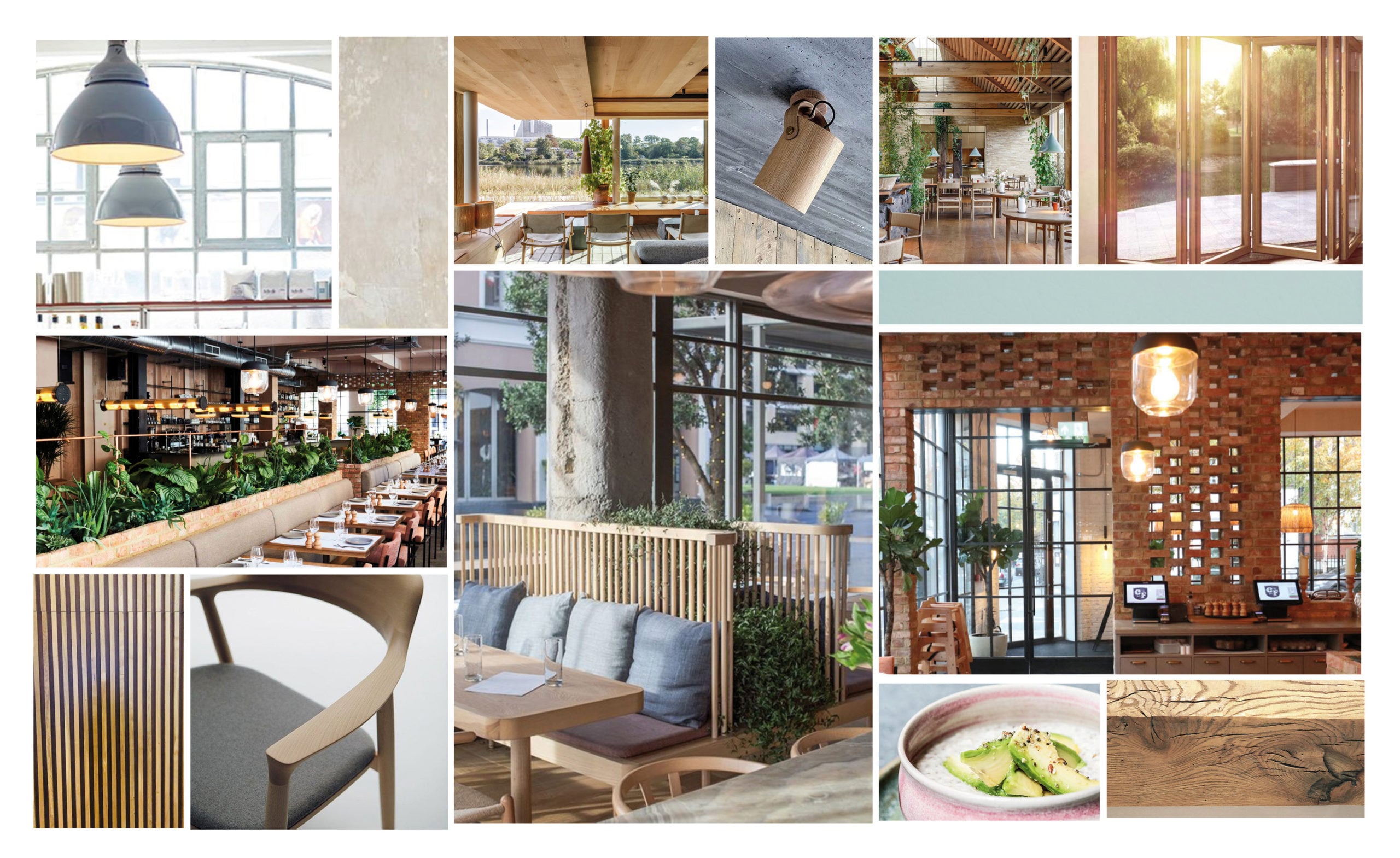 Lighting
Much like the furniture choices, Lighting has a direct impact on your customers. The right lighting can complete an interior perfectly and increase the emotional response a customer has to your brand interior. You may not have thought much about this before but I'm sure we have all been sitting in a coffee shop, bar or restaurant and been affected by the lighting choice, height or strength at some point. When the lighting isn't right it can be very distracting and difficult to relax in a space so it is wise to take this into consideration during the design of your space. 
Lighting is a powerful tool in hospitality interior design. A coffee shop's lighting has many uses, to allow the guests and staff to see well enough to carry out necessary tasks, to set the atmosphere and to positively affect customers' individual experience and to aesthetically please and compliment an interior concept. Lighting is often not the first thing people notice when walking into a hospitality venue, however it's probably one of the first things that evokes an emotional response or feeling for the branded interior. 
The overall lighting should be enough to be able to read menus, identify signage and to function without eye strain or difficulty. However this doesn't mean you can't create the atmosphere that is reflective of your individual brand. Consider the mood you are trying to create in your interior, bright and energising lighting choices are more suited to daytime venues and lower and warmer lighting for evenings. Lighting can affect customers' behaviour, fast food and grab and go establishments tend to keep lighting bright and stimulative to keep customers turning over quickly however venues with warmer and softer lighting are more comfortable and encourage customers to stay and enjoy their experience for much longer. 
When looking at coffee shop lighting, think about the colour of the light, the strength and the potential location of the lighting. Consider the way the light will work with the wall and furnishing colour choices. Colour can completely change the way the light is interpreted so you must work with these two things in tangent to ensure you create the balance you are looking for. Don't forget lighting can be both functional and decorative too so don't neglect your brand personality when it comes to this element for the coffee shop design, pops of colour or bold statement pieces will create points of focus within the coffee shop. 
The main takeaway when it comes to furnishing and lighting your coffee shop is consistency across your interior brand concept. Using too many furniture design styles or too many different lighting choices or temperatures can unsettle customers. The other main takeaway is functionality, there's no benefit in having a beautiful interior space if it doesn't function smoothly for the customer or staff.