Coffee Shop Interior Design Ideas | Part 1
Interior design for hospitality essentially is a process that should consist of three things, of brand strategy, brand identity and interior architecture. You may be refurbishing your interior, rebranding or creating a brand new coffee shop brand… whichever category you fall under, as a Hospitality brand you should take time to consider or review all three of these elements. To help you make sense of and work through the interior design process we have put together a guide consisting key elements to consider when creating your coffee shop interior. Our first blog will go into depth on Brand, Interior Concepts and Colour Choices.
Brand First
All hospitality brands strive to provide memorable interior brand experiences and unique memories that make people want to come back, but what's the recipe for success? Having a cohesive and purposeful brand strategy allows hospitality brands to create stand out branded interior experiences and position their restaurants, bars and coffee shops for future growth. 
The best place to start is at the very heart of the brand. It's important, especially for hospitality brands, that they have clarity around the purpose of the brand, its values, positioning and future direction. When a brand has nailed these key things internally, it means that their external offering and communication is more purposeful, clear and consistent for the customer. It's only when a brand and team has total clarity around the brand's reason for existing that they can authentically connect with their ideal customers and tell their true brand story through the interior. The brand strategy process can identify areas of disconnect and that's okay, the idea is to use strategy to align the brand, to eliminate the gaps  and to create a more connected brand. We recommend focusing on this before embarking on a new brand, rebrand or interior project, this way you stand a much better chance of connecting with your customers and positioning your interior for success. 
A strong brand positioning will help lead a better interior process. A carefully thought out branded interior experience will entice new customers, expand your community and build stronger loyalty. Coffee shop branding should communicate not just the brand identity but the brand's purpose, culture and personality too. The interior concept and customer experience should embody the overall mission and values of the coffee shop brand. The brand should take into consideration the tangible AND intangible elements of the coffee shop design and ensure the brand ethos is consistent throughout, a well considered brand should connect with its customers on a deeper level. 
Start aligning your brand with our free Grey Coffee Brand Strategy Template!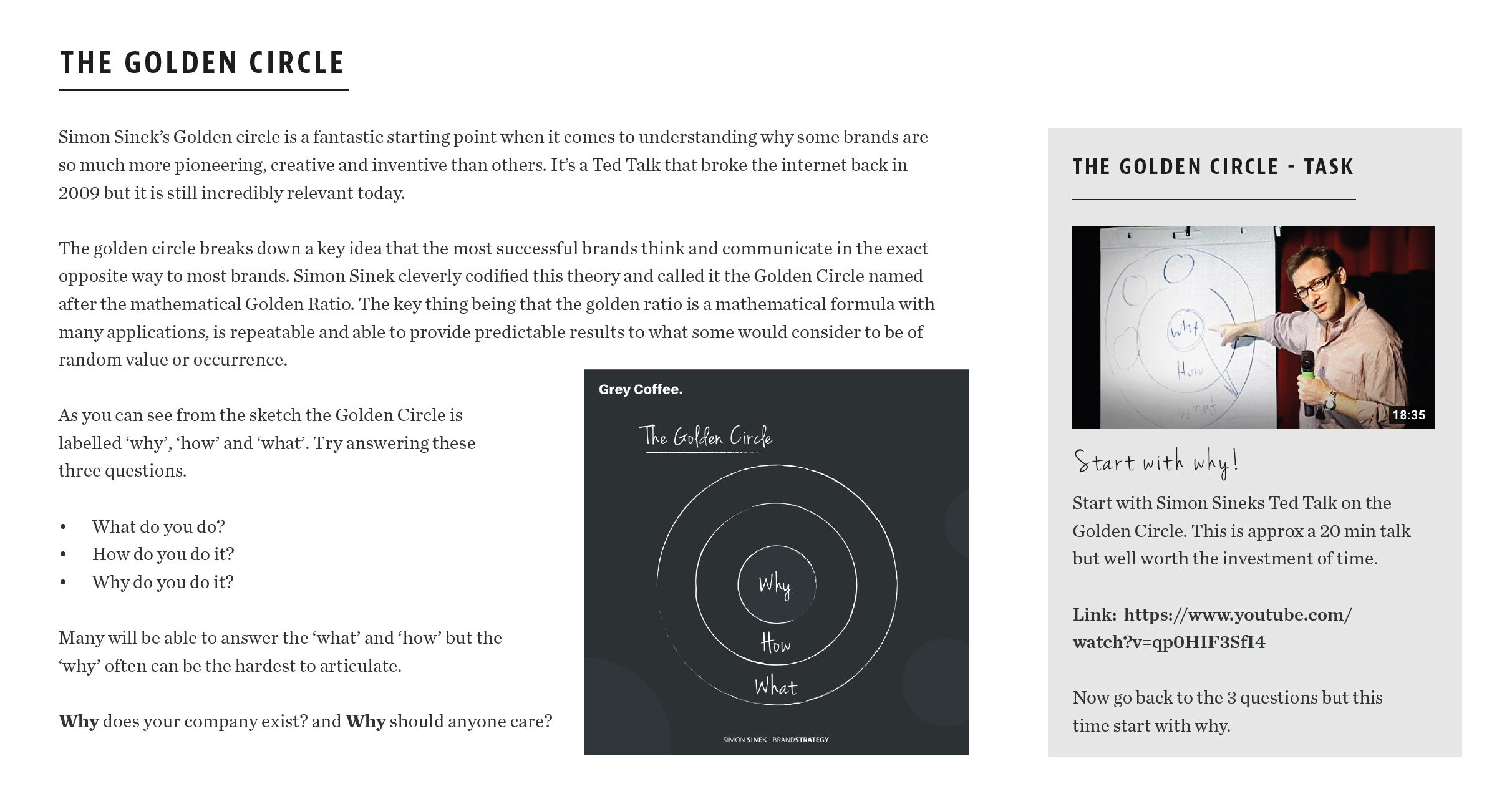 Interior Concept 
The most important thing about your coffee shop interior design concept is to ensure your design aligns with your overall brand. It's not just about how the coffee shop looks, each step of this process should be led by your brand's purpose and this should be integral to any decisions on the interior concept. 
The basis of your concept will come from the in-depth knowledge you now have around your brand. The brand positioning should be the focus here, what is it that you want to offer the local people, what is it that's in demand and how will your interior space bring all of this together? For example, if the coffee brand is a social hub for the community and a perfect place for group meets you probably would expect the interior to be more casual and communal. Equally, if this was a high end speciality coffee house there is a high chance the interior would reflect this ethos with a more private seating and a sophisticated ambiance. 
Essentially the coffee shop interior is a blank canvas to tell your brand story, the focus should be to create a connected brand experience for your customers. The brand experience you can create is what sets you apart from your competitors and encourages your customers to come back for more. You want the coffee shop interior to be instantly recognised as your band. 
When thinking about the interior concept, think about the overall mood and atmosphere you want to create for the customers, your research should be guided around staying true to your brand and keeping the customer at the heart of the experience. Adding your brand's personality goes way beyond using your brand colours or putting your logo and values on a feature wall. A branded interior shouldn't be approached in such a blatant or gimmicky way. The best way to start thinking about introducing your brand culture and personality into your space is to utilise your interior choices to make your customer 'feel' your band. Is your band aesthetic simple yet sophisticated or raw and industrial, warm and cosy or paired back and minimal? What elements would reflect this aspect of your brand? Build a collection of visual references to help you visualise how your concept would look, the concept should bring together interior elements that  are a physical representation of your brand. 
Staying true to your brand within your coffee shop interior reinforces your values and intentions and shows that you are prepared to implement these key values across all areas of your brand. If you want to work through a more detailed interior concept process, take a look at our 'Coffee Shop Interior Concept to Connected Brand Experience' article.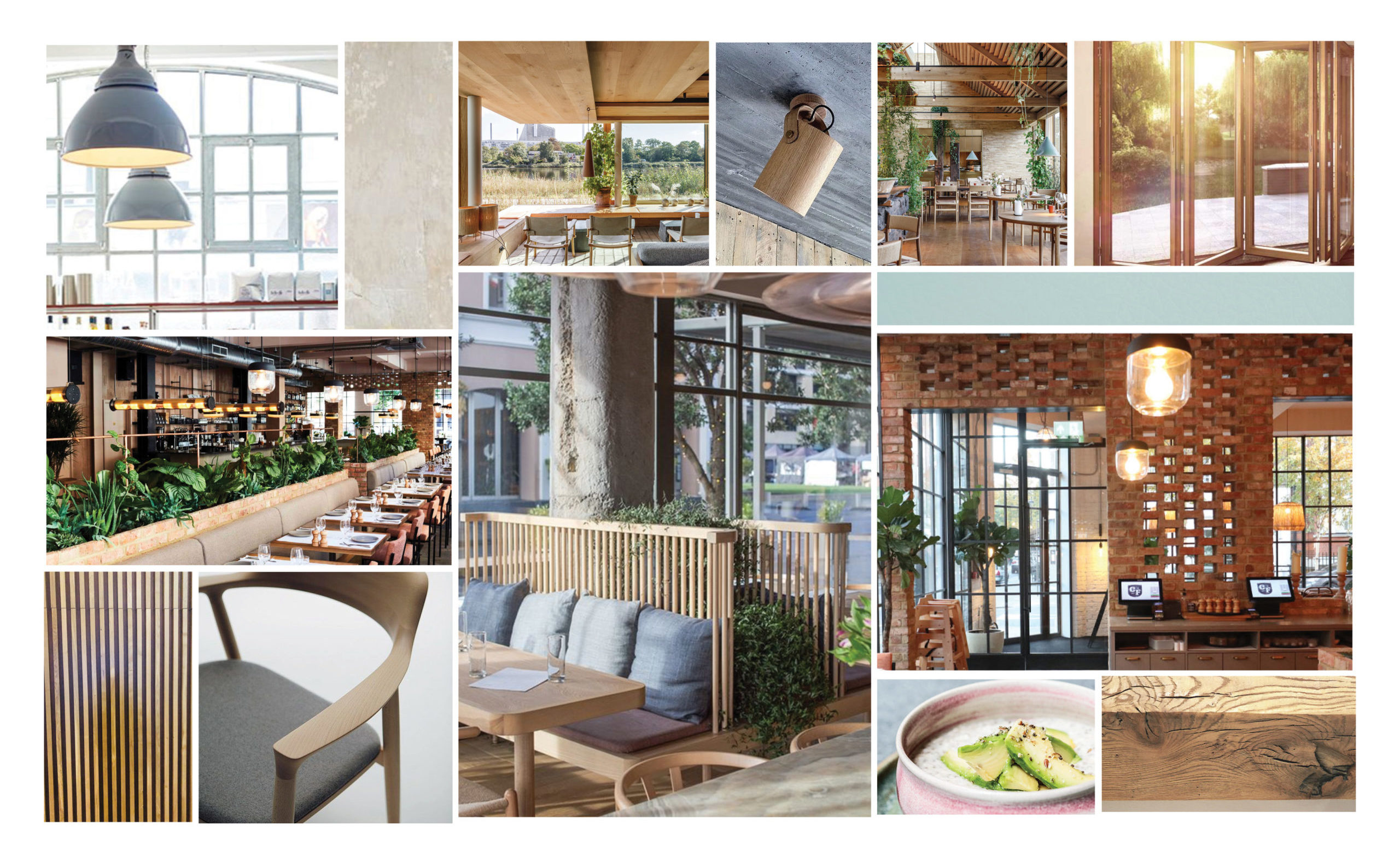 Colour Choices
The colours used in your coffee shop design don't need to be restricted by your brand colours, this is often a misconception when it comes to developing a branded interior. While it is very important that the look and feel is 'on brand' the most important point to note is that the colour choices shouldn't be the only thing that recognisably connects your brand identity to the interior. You want the colour and material finishes to connect further than the surface level, make sure the reason behind your interior choices goes beyond them matching. 
The way you add colour to your space is important to consider, it really depends on the type and size of space you have, colour choices are crucial. As a basic guide, using darker colours tends to close a space up and make it feel smaller or cosier whereas lighter colours help spaces to feel more spacious and airy. If you have a small site to design it's probably best to use a larger amount of light colours especially on walls and ceilings, this will open up the space and make sure it doesn't feel cramped. Alternatively if you have a huge site and want to make it more intimate, consider using darker colours to help close the space in.
You can introduce colour into your interior in more subtle ways than painting a wall, think carefully about material and colour choices for your furniture. The colour of your furnishings and accessories can really determine the space, like we said before, your brand colours are important but what you need to focus on is creating a space that represents your brand not one that replicates your brands colour palette.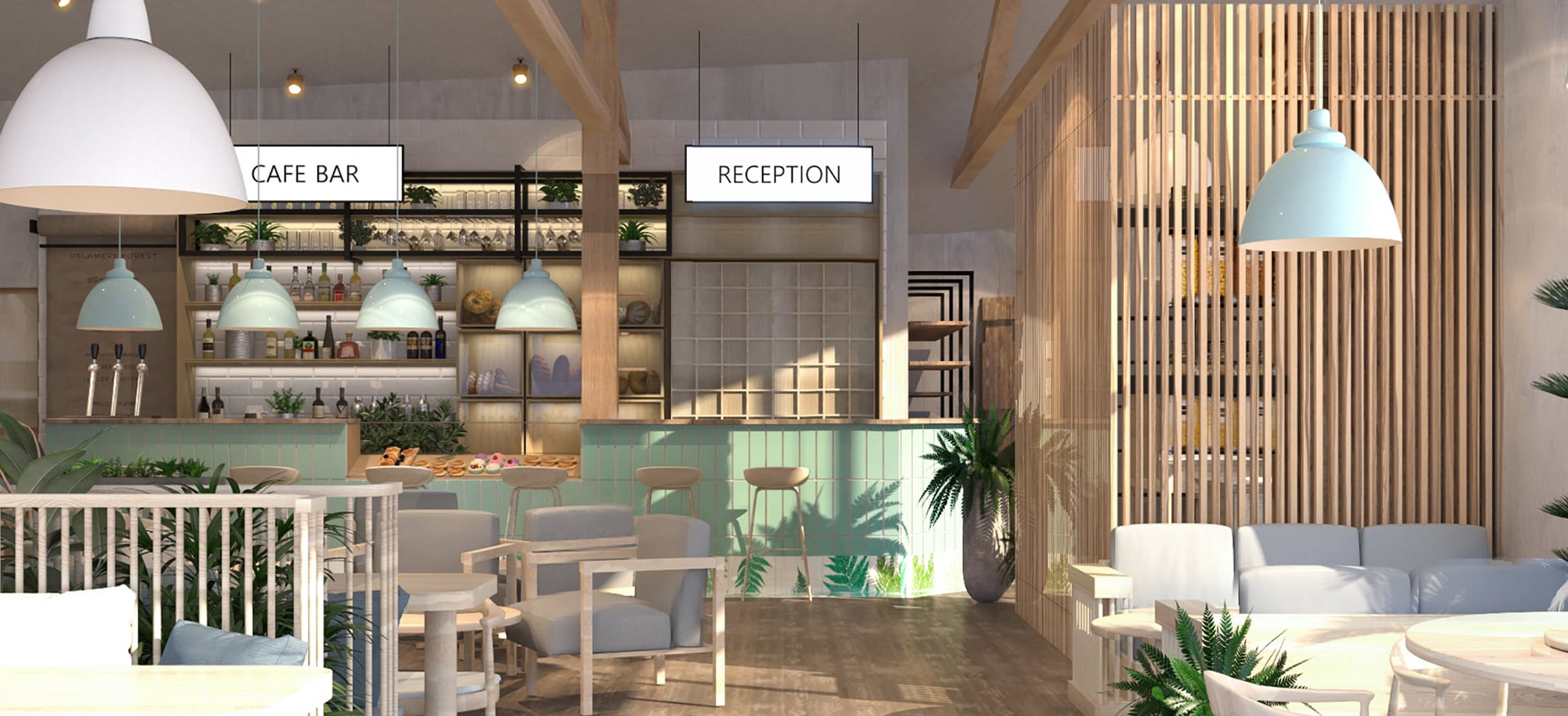 As you can already see there are many factors to creating a killer hospitality interior, we have touched on 3 important things to consider when it comes to your coffee shop and looked into how brand clarity, brand identity and interior concept work together throughout a coffee shop design process. The next considerations for creating your coffee shop interior are furniture and seating options, and lighting choices. Take a look at our next 'Coffee Shop Interior Design Ideas' blog talking about more specific interior design ideas.